---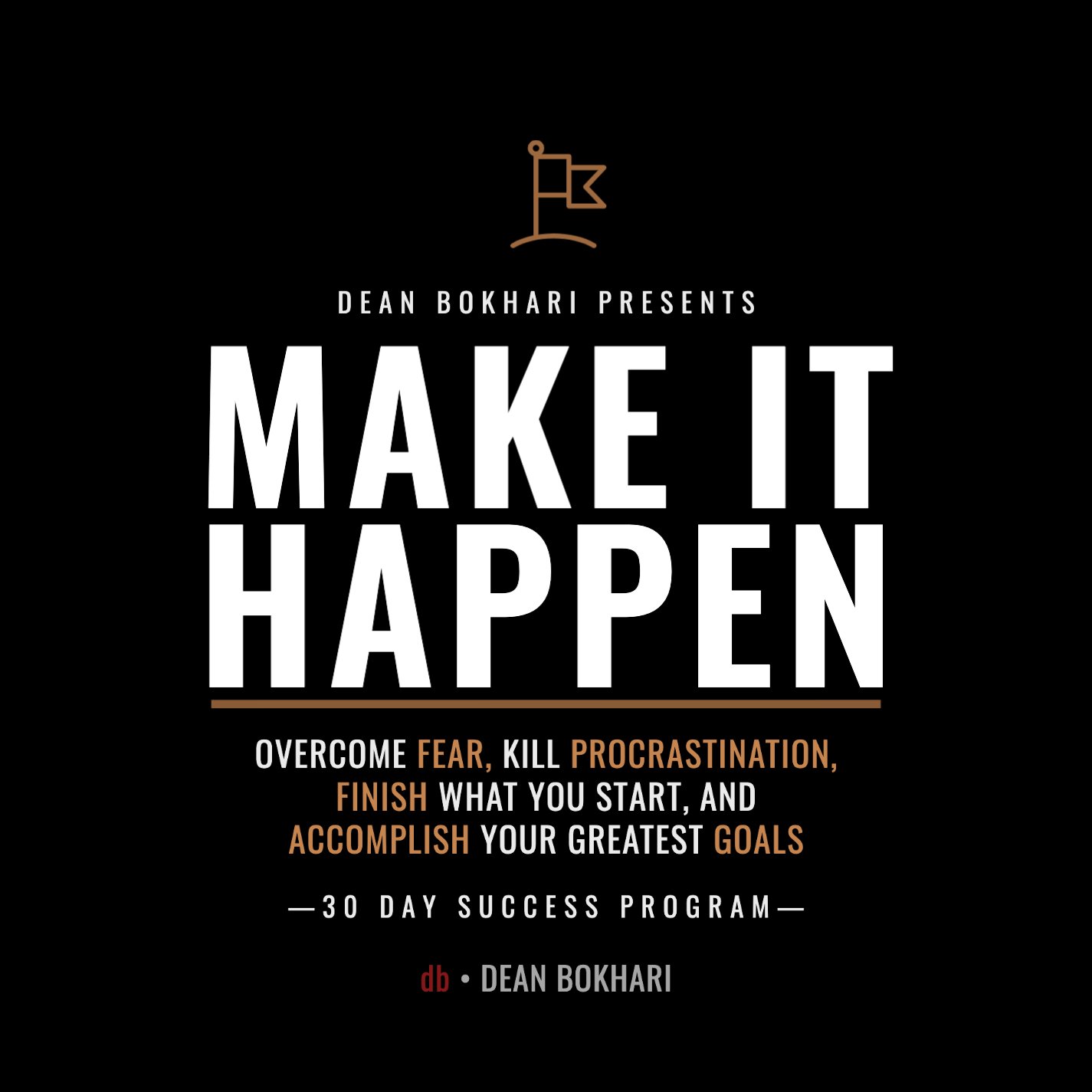 Make it Happen

Overcome Fear, Kill Procrastination, Finish What You Start, And Accomplish Your Greatest Goals—30-Day Success Program
⚡️ NEW 30-DAY AUDIO COURSE by Dean Bokhari
---
About this course

Make it Happen is a 30-day audio-based course designed to help you get clear about your ambitions, kill procrastination, take action, overcome fear, and accomplish your greatest goals—no matter how big or small. 

The program is based on the success principles I've developed and distilled over the last decade and a half—including my own personal experiences and the experiences of some of the most successful people in the world.

What you'll learn

Make it Happen is designed to help you take small steps daily... Much like a snowball that starts off with a small roll at the top of a mountain, getting bigger and bigger until it becomes an unstoppable force of nature, these small daily actions will compound for you as well; and at the end of your 30-day cycle, you'll look back with astonishment at how far you've come. You can expect to receive an actionable Make it Happen method each day for 30 days, to help you: 
☑️ Take action + achieve your goals, no matter how big or small.
💪 Establish strong habits that'll help you create lasting changes—personally and professionally.
🫣 Overcome the fears that revolve around making major life changes, so you can move forward with confidence.
⏳ Kill procrastination, so you can stop putting off important tasks and start making progress. 
🔥 Maintain motivation and cast an exciting vision, so you can feel inspired perpetually—not sporadically. 
🧭 Gain a renewed sense of purpose, energy, drive, and personal power to propel yourself forward to even greater success.
💡 And most importantly: you'll learn how to finish what you start, so you can achieve your goals, build self-confidence, and feel a sense of accomplishment and fulfillment along the way. 
How it works

I designed this 30-day program to make it as easy as possible for you to make anything happen. Here's how it works: 

📆 30 days. 30 methods. Each day, for 30 days, you'll receive an email with a new Make it Happen Method. 
⚡️ A few minutes a day is all you need. Simply carve out 10–15 minutes for your daily Make it Happen ritual. 
🎧 Listen + learn. Anytime, anywhere. Because it's audio-based, you can listen no matter where you are—at home or on the go, while you're out for a walk or at the gym. Simply push play and let me be your guide. 
💨 Fast + actionable. Lessons include actionable exercises you can implement immediately. 
What you'll get

You'll pick up practical strategies and techniques that you can start using right away to make progress toward your goals… And when you start seeing progress towards your goals, you'll feel more confident, more energized, and perpetually motivated to keep going. You'll experience a renewed sense of purpose and drive that will carry you forward to even greater success. When you enroll, you'll get:

🔑 Lifetime access to the Make it Happen dashboard, so you can come back again and again until the lessons become ingrained in your mind. 
📝 Make it Happen action guides. You'll receive downloadable, fillable, and printable action guides to jot down notes and engage in your daily exercises. 
☑️ 30-day progress tracker to help you measure your progress and make it happen.
Let's make it happen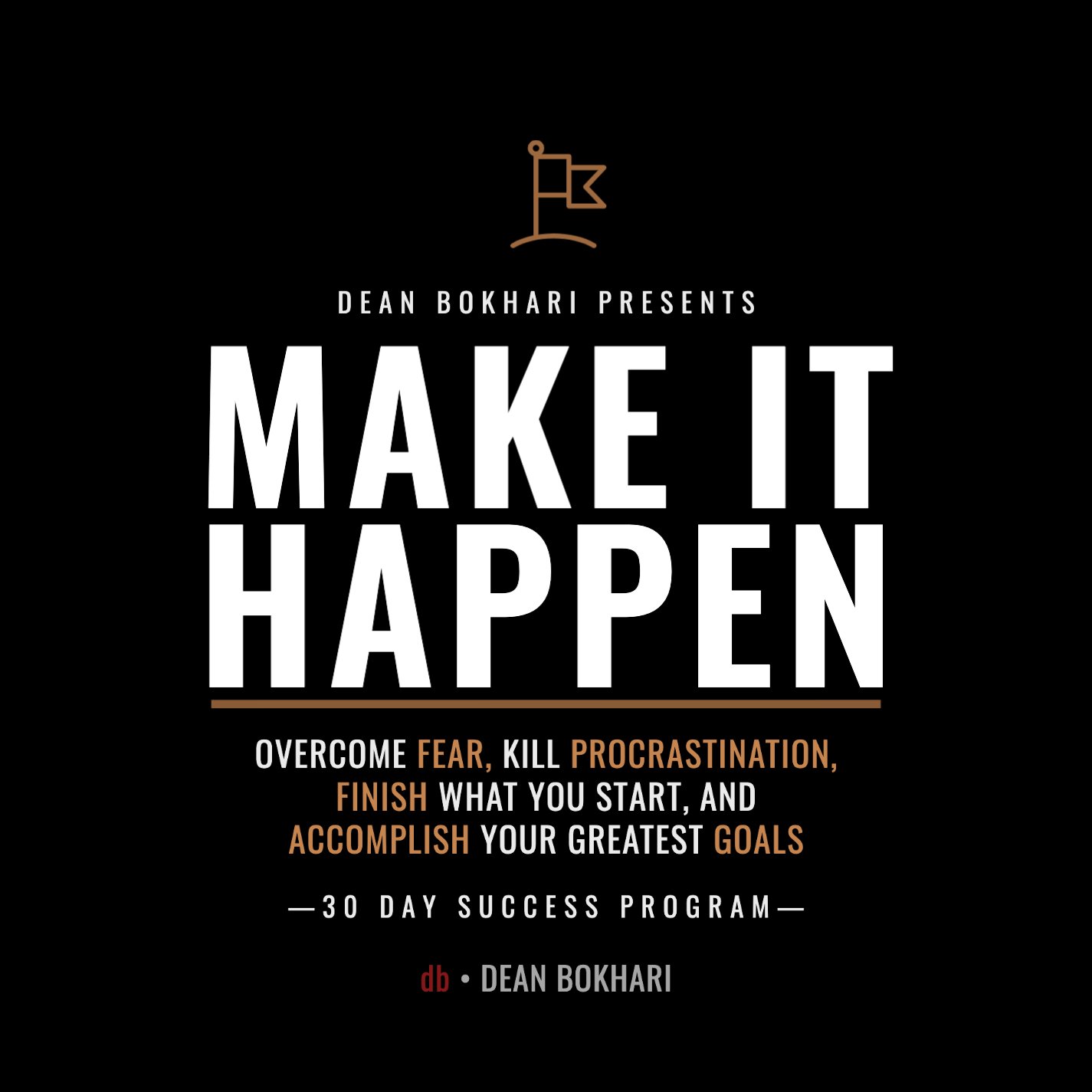 Ready to get started?
Enroll in Make it Happen Now - Only $199 »

💡 Make it Happen is backed by my 30-day risk-free guarantee. If it's not for you, send us an email within 30 days of purchase for a full refund. Easy peasy.
---
LIVE LIKE YOU GIVE A DAMN,
DEAN BOKHARI //  Join 593,201 members of the Meaningful Movement »
---
Connect with Dean: 
Subscribe to blog (it's free) | Twitter: @deanbokhari | Facebook | LinkedIn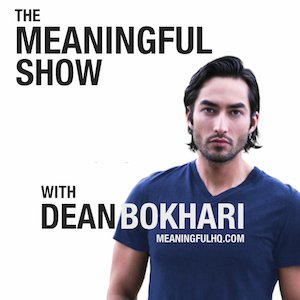 "Dean Bokhari's Meaningful Show is the Self-Improvement Podcast I've been waiting for. It's actionable, inspiring, and BS-Free."--Brett Silo

---
Search for more podcasts + articles...
---
---
Top Audiobooks narrated by Dean Bokhari on audible
Book summaries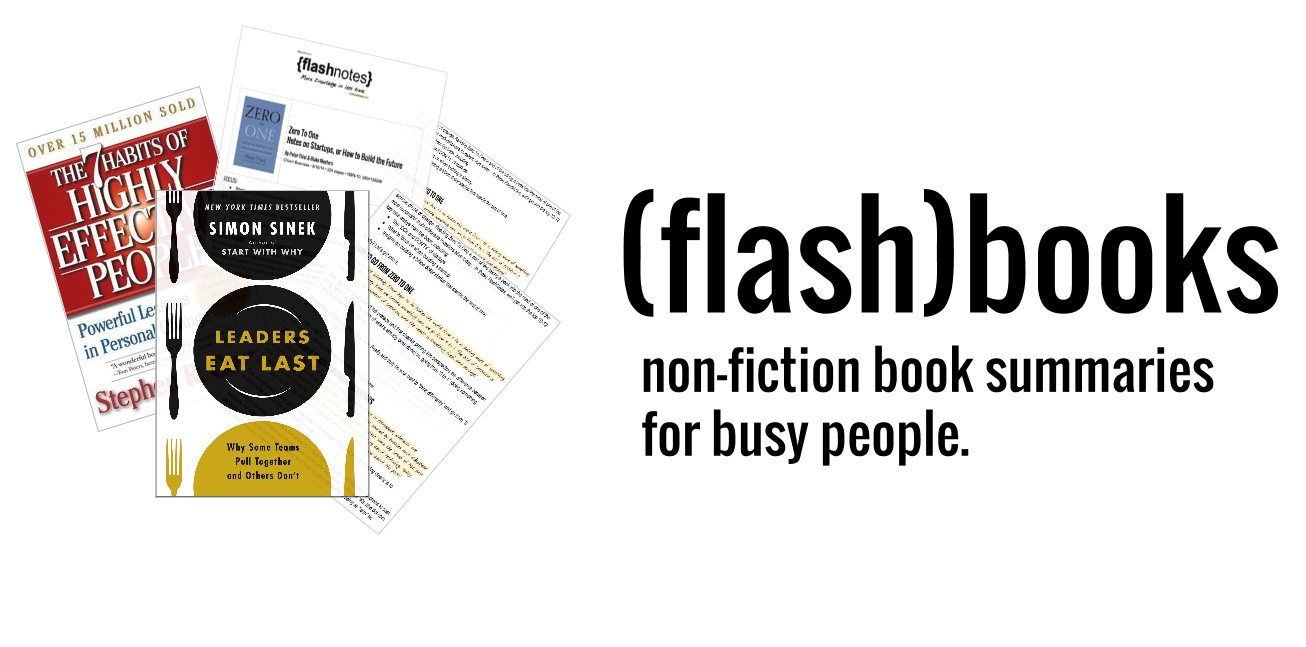 (Click here. Opens new window)
Read or Listen to top Self-Help + Business Book Summaries in 20 Minutes or Less.
NAV